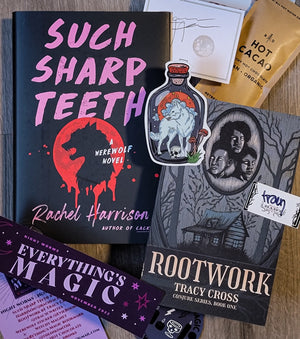 EVERYTHING'S MAGIC - NOV 2022
🌙 Check our Instagram for optional spoilers. THIS IS A ONE TIME PURCHASE NOT A SUBSCRIPTION.
 NOVEMBER 2022 THEME ANNOUNCEMENT: EVERYTHING'S MAGIC‼
💥Preorders will begin Monday, October 3rd at 8am PST.
🌙 SWIPE FOR SPOILERS! We will be sharing optional spoilers more frequently to prevent you getting duplicates!
🔮 There will be TWO new books!
🌙 As always you can expect a fun themed goodie bag which generally includes: a bookmark, a sticker, and a beverage!
 🪄 read the description CAREFULLY. All sales are FINAL! No refunds. Please check out our feed or #nightworms to get an idea of what to expect based on past packages.
🌙 Already subscribed to Night Worms? You're all set to receive November's package - no need to order again. Make sure your credit card info and shipping addresses are up to date to ensure a successful renewal on 10/7.
🔥 If you're unsure if you've subscribed- please email us nightwormsreviews@gmail.com
🌙 Graphic art by @theinksmithe
✨️Books and items in each package are subject to change without notice
SHIPPING:
*This package will ship in November 2022.
We ship using USPS Priority Mail.